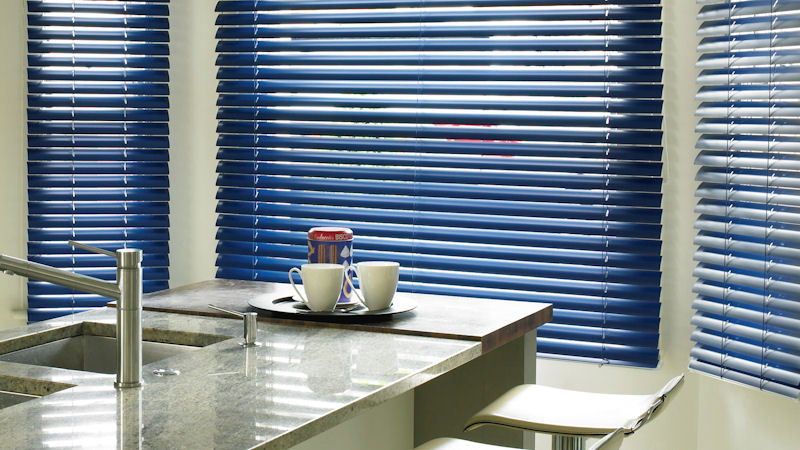 We've always had a passion for style & decoration - furnishing your home will be a real pleasure.
Aluminium blinds are versatile and affordable, offering a classic to a modern contemporary style which complements any interior design theme. This flexible Venetian blind with its tilting system regulates heat and light control. Perforated slats when tilted closed are the ideal choice for outside views while simultaneously filtering light.
They also provide a sense of security during the day. Available in a range of plain colours, including metallic, pearlised, brushed and wood grain finishes.
Extra reasons to choose us for your Aluminium Blinds
We are committed to providing you with the best value custom made Aluminium Blinds

Our Aluminium Blinds are affordable and made from quality materials

Our service can't be beaten

Your satisfaction is our priority

We think outside the box and will find a solution to meet your requirements

Our expert and competent team have 40 years experience in the windows and blinds industry

We strive to supply, deliver and install your Aluminium Blinds fast
Features & Benefits of Aluminium Blinds
Aluminium Venetian blinds offer a contemporary streamline interior décor finish, with the functionality of tilt angling to provide privacy and heat control. For privacy, angle the blinds so you can see out – but others can't see in.
We offer a wide variety of fabrics per range. The complete fabric Aluminium Blinds range is available and we can bring out our most popular range. Should you require any fabric specs or specific colour or fabric range please contact us with your request.
High quality and durable UV paint finish that resists chipping, fading and is easy to clean.
Colour coordinated components and rail
All rail profiles are aluminium extruded and are powder coated to offer protection against rust corrosion and are supplied with quality components for long lasting blinds. The tilter mechanisms also offers a smooth andeasy operation.
Aluminium tubes, rails and parts
All aluminium roller headboxes and rails are extruded aluminium profiles which offers protection against rust corrosion and supplied with quality components for long lasting blind.
Satin, Metallic, Brushed, Pearlised, Perforated and Wood Grain